I've grown up watching anime for as long as I can remember, with my very first being Cardcaptor Sakura and Digimon (still a huge fan of both series) but despite being the huge anime fan that I am, I have stubbornly refused to touch a manga till about 2 years ago. I  didn't think a manga would be as entertaining as an anime since it's literally pictures on a page as compared to moving images and sound effects. Plus, being an avid reader, my stubborn is  further reinforced by an elitist discrimination towards comics of any kind (not to say all bookworms are like that).
It was until I chanced upon Dengeki Daisy one day that I decided to give manga a try (also it was less obvious than watching an anime since I was having my internship at that time). Though I ended up dropping it, I truly enjoyed the experience. For the first few chapters at least. I was pretty surprised at how a manga is able to evoke so much intensity and emotions despite being just pictures being printed on a page. Then again, it's the same with words in a novel. Lol. It was months later that I gave in to reading the manga of one of my favourite shoujo animes, Tonari no Kaibutsu. And omg…I was hooked. It was then that I've fell into this dark hole which I was doomed to never climb out of.
And so, here's a list of my top 5 favourite mangas. May you fall into this hole just as I was.
1. Tonari no Kaibutsu-kun (My Little Monster)
Genre: Comedy, School life, Romance, Shoujo
Status: Completed
Chapters: 55
One of my all-time favourite shoujo mangas. It's quite different from the usual shoujos like Ao Haru Ride or Dengeki Daisy. The heroine is the studyholic Mizutani Shizuku who's life is disrupted by the unpredictable and violent Yoshida Haru. Unlike most shoujo mangas that I've read, the heroine has no desire for romance and focus all her time in her studies. She's blunt, cold, plain and has no social skills whatsoever. Then she meets Yoshida Haru who is a troublemaker with a naive mind and becomes convinced that Shizuku is his friend, which of course she's quick to deny.
The charm of this manga is really the quirky characters that are so easy to relate. It's full of laughs and doesn't take itself too seriously but when it does, it's so painfully realistic that you can't help but relate. Though most of the time it's just full of laughs especially the interactions between Shizuku and Haru. And that initial kiss scene!! It's so fluffy yet funny at the same time. Shizuku and Haru are definitely not your typical shoujo couple and Haru is nowhere near the perfect prince charming, or any of the other shoujo male characters actually (but he's just so adorable!) But you can be assured that there're plenty of cute, fluffy scenes that pop out when you least expect it and make your heart melt. Warning: You might experience some second-lead syndrome because Yamaguchi ❤
I'm still looking for my real life Haru.
2. Yankee-kun to Megane-chan (Yankee Boy and Glasses Girl)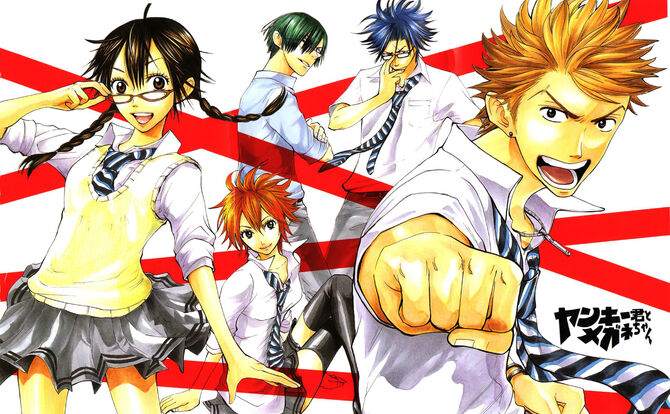 Genre: Action, Comedy, Romance, School Life, Shounen
Status: Completed
Chapters: 219
I've always been a fan of shounen so when I chanced upon this I dove into it straight away. The story is told through the eyes of Shinigawa Daichi (hence the shounen tag), an outcast delinquent who's often found skipping class in the toilet cubicle. One day he's caught by class rep Adachi Hana while he's in his usual spot (yes she's a girl who enters a male toilet without even second thought) and forces him to participate in the upcoming Social Studies school trip.
I wouldn't say this manga is entirely about romance but there are some cute romance parts. Another rather unusual manga about delinquents, brotherhood and school. Heartwarming, funny and incredibly addictive, the chapters are short but quick and you're guaranteed a laugh in each chapter. It took all I had to keep my voice silent as I screamed and laughed along with the characters. And since it's a manga about delinquents, be sure to expect lots of action and fights which only makes this manga more exciting. The characters are so lovable that you can't help but fall for them and root for them as you read on. Adachi is the most complex and unique, breaking all forms of stereotypes about the class rep, glasses character. She's a goody-two-shoes who follows the rules but is bad in her studies (her grades are even worse than Daichi's lolol) and is the strongest fighter in the entire manga. Daichi is just as complex with his inner desire to make friends but being an outcast has him putting up a facade to hide his loneliness (how many of us can relate to that, I know I can ).
And if you think the art looks familiar, it's from the same mangaka as Yamada and The Seven Witches.
3. Dame na Watashi ni Koishite Kudasai (Please Love The Useless Me)
Genre: Josei, Romance, Comedy
Status: Ongoing
I think most of you should at least have heard of this manga or the live action of the same name starring Dean Fujioka. The manga is written by my favourite mangaka Nakahara Aya who also wrote Lovely Complex (another favourite of mine). The story follows Shibata Michiko who is unemployed while supporting her younger-than-her college boyfriend. She is then hired by her intimidating ex-boss Kurosawa Ayumu, aka Shunin. The style of Dame Na Watashi is similar to Love Com (if you haven't read it I highly recommend it) in that the humour comes in the form of hilarious facial expressions and sharp banter between the two leads. Shibata is way too naive and sometimes childish but somehow Nakahara Aya manages to make her lovable. Maybe it's her spunk to do her best in whatever she's doing and how relatable her desire for love is. Shunin is comes off as cold, yet hardworking but he's hilarious and so sweet! And this is even before he falls for Shibata (which by the way, won't be for a while) but their interactions are still so cute and fluffy! For a josei manga this is pretty shoujo-like, apart from the setting and the characters' age.  Plus the art is so pretty!! For shoujo-lovers out there, this is definitely a must-read.
Shunin just kiss her already.
4. Koi Dano Ai Dano (Like and Love)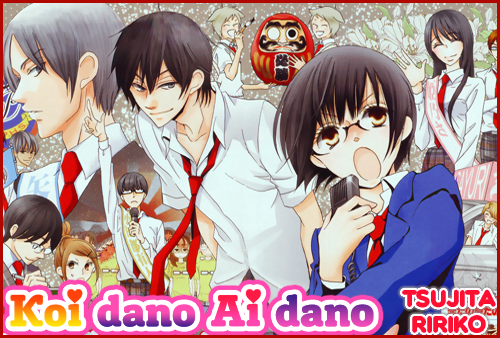 Genre: School Life, Comedy, Romance, Shoujo
Status: Completed
Chapters: 45
One of the most underrated mangas I've ever read. Why is this not popular urgh.  Koi Dano Ai Dano is a sequel to Warau Kanoko-sama which follows Kanoko as she enters high school. Incredibly smart but reclusive, Kanoko enjoys watching people and laughing at them to herself (sounds alot like me lolol). However she ends up becoming the strategist for the Newspaper Club together with her best friend (and hottie secret admirer) Tsubaki. The plot is almost nonexistent. Another unusual shoujo manga where the heroine is plain and nerdy. Plus, she's a world-class strategist who's more interested in other people's drama than her own.
Kano is just plain awesome. She seeks a quiet life where she can quietly watch other people and like Shizuku, she's bad at making friends. It's heartwarming to see her opening up to her classmates and making friends with the help of Tsubaki though she's not exactly someone with pure intentions. Still, it's incredibly funny watching her carry out her plans as well as her interactions with Tsubaki, and her total oblivion of his feelings for her. Her oblivion can come off as quite a stretch since Tsubaki has made it obvious MULTIPLE times. But then again, the thought of someone as hot as Tsubaki even having feelings for someone like her is more of an impossibility that she's not interested in. But there's still PLENTY of really cute and fluffy moments from Tsubaki!
I had a hard time keeping my laughter silent.
5. Kuragehime (Jellyfish Princess)
Genre: Gender-bender, Comedy, Romance, Josei, Slice-of-life
Status: Ongoing
My heart is crying at how slowly this manga is being updated. But those 81.5 chapters were still worth the read. One of the most unusual romance mangas I've ever read, the gender-bender element makes it all the more unusual. No borderline BL or Shoujo-ai elements if you're wondering. Just that the male lead happens to like dressing up as a girl. The story follows Tsukimi Kurashita, a jellyfish otaku who lives in an females-only boarding house with four other otakus. She meets cross-dresser Koibuchi Kuranosuke and brings her into the boarding house without knowing that she is actually a he.
This manga is so beautiful in so many ways that explores the world of otakus, fashion, dreams and jellyfishes. Tsukimi is so sweet and the story behind her love for jellyfish is so heartwarming yet sad. She is your typical otaku NEET who knows nothing about dressing up or makeup but also innocent and kind. Kuranosuke is the direct opposite, loud, confident and knows everything about fashion and makeup. Yet even he has his own bittersweet story about his love for cross-dressing. The characters are all so quirky yet it is their bonds and interactions with each other that steals your heart. It was such an emotional rollercoaster as I watched the characters go through their daily lives and obstacles that feels so real that you can't help seeing yourself in them. Though the manga hasn't ended yet but already it sends out a powerful message about chasing your dreams and most importantly, that anyone can be a princesses.
I now see jellyfishes in a new light.
Notable Mentions:
Hotaru no Hikari – josei, romance, comedy – ongoing
27 year old Hotaru is a "dried fish woman" who has no feminine qualities and would rather eat and sleep at home. She ends up living with her boss Takano due to some unforeseen circumstances.
Yumemiru Taiyou – shoujo, romance, comedy – completed
Koneko Shimana runs away from home and meets Fujiwara Taiga at the park. He offers her a home where he lives with two other guys.
Hirunaka no Ryuusei – shoujo, romance, comedy – completed
Yosano Suzume moves to Tokyo with her uncle and bumps into a mysterious who took her to her uncle's place when she was lost. That man turned out to be her homeroom teacher.
---
And that's all for my manga recommendations! I've left out a few on purpose since they're pretty well-known already and tried to put up some that I felt are wayyy too underrated but so good. Now to go clear my neverending list of unread mangas, gosh.